updated 1/8/18
Driveway breeding service is available--contact us for more information. No, we will NOT lease a buck off the property, so don't even ask. To see our beloved but departed bucks, click here.
(Photo by D. Gotthardt.)The birth of this buck really was a miracle--his 14 year old sire was supposed to be sterile, and his elderly dam had been retired from breeding. However, grandma and grampa had other ideas. Both parents are a tribute to longevity in the breed. I really like the elegance of this buck, though he does persist in adopting the typical butt-tucked, stubborn buck position in the show ring. One of Max's first daughters, Ocean Spray Catch the Wave, earned her AR and milk star as a 2-year old on her first freshening. On lease at Charlie's Acres.
Show Record : 1 x RGCH (ADGA, judge Pete Snyder, May 2009)
(Photo by Glenys Gotthardt) I am so glad to have this boy back...
Of all of the Halifax sons I retained, I think Ranger is the one that most resembles his illustrious sire. His two siblings have been extremely successfull: Dragonfly HFX Carmen VVVE 89 is the foundation doe for the Sunnydale Farm Nigerian dwarf herd, having produced two SG daughters, one of whom is a finished CH appraised EEEE 91, and the other with multiple legs earned, appraised EVEE 90, as well as multiple very promising younger offspring. Dragonfly HFX Tanunda, owned by Kyeema Ridge farm, recently appraised EEEE 92. This year (2015)I realized to my surprise that I had retained very few Ranger daughters, so I have remedied that, I hope, retaining 4 daughters out of some of my best does.
When you have a buck who just looks great all the time, lounging in the pasture, hairy and stinky, you know you did a good thing bringing him home again. Gari was sold as a kid and went to a nice farm where he had some pretty kids, and when they needed to move him on, thank goodness they offered him back to me (thanks, Eva!!!). He has several brothers who were successful herd sires in Texas (see Pretty Noel) and Wisconsin (see Olson Acres). As soon as I set eyes on him, I thought I had something pretty nice here to work with. Gari is linebred on the great MCH Flat Rocks Surprise *D 'E', through both Flat Rocks Flash, one of my favorites of all time, and his half brother the great Gem, and his pedigree also includes the other two main lines I love to work with, Raising Arizona, and Raha Acres Twink'sPixie. Up close, he is a combination of probably my two best does, Party and Chiara. Polled, as a bonus.
Show Record : 2 x RGCH, 1 x GCH
I am very excited about our new herd sire--he is very similar in breeding to our favorite Pacifica, as well as some of the most successful herd sires in the breed (see Twin Creeks BW Montego Bay, Rebel w/out a Cause, Fathom This, and Brown Dirt Cowboy, among others, and for a real thrill, Google their daughters...) They are all very very prepotent producers of strong udder floors, high rear udders, and especially, that near perfect teat placement that is still far too rare in the breed--I am really looking forward to some beautiful udders . Avatar has some really nice daughters from 2011 that have freshened with cookie-cutter identical gorgeous udders.
Show Record : 3 x 1st place, 2 x RGCH out of 3 times shown against the big boys, May, 2012; 4 x RGCH, May, 2013.
| | | |
| --- | --- | --- |
| DOB 3/1/10 | extended pedigree | LA not yet done |
Okay, this guy ought to be Halifax come again...but at least at first glance, he sure is not. In fact, he is a very unprepossessing little guy, though he is absolutely the most lovey boy in the buck pen. However, as they say, it's not how they look but what they do, so hopefully we will see what he can do this spring.
I wanted to leave what I wrote above, now that I finally have a mature clipped picture of this little guy--he has turned out very well, I think. He's still the shortest guy in the buck pen, (and still the sweetest), but he is beautifully put together. A sleeper that I believe I should be using much more.
Show Record : not yet shown
Full brother to Demeter, and a very dignified and beautiful guy.
Show Record : not yet shown
(Photo courtesy of Proctor Hill Farm) Solaris represents the extreme in dairy character, with very lean thighs and an elegant profile. The udders behind him are very strong, and his pedigree includes one of my very favorite crosses in the Nigerian breed, Baywatch to Nonpareil. I am expecting very strong udder attachments and a lot of elegance from his kids.
Show Record : not yet shown
Polled. I just love this little guy, even though he doesn't like to help us photograph him. More impressive in person than this picture shows. Quite a few daughrters retained, all nice.
Show Record : 4 x 1st, 3 x Jr GCH, 1 x Jr RGCH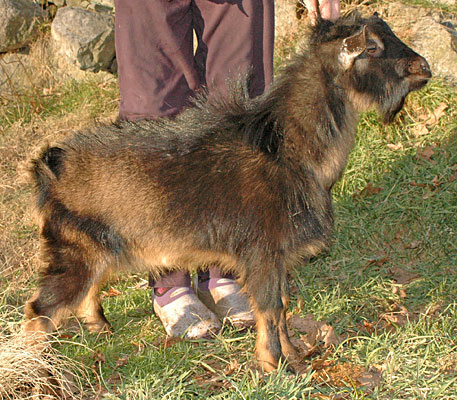 December, 2011
| | | |
| --- | --- | --- |
| DOB 3/11/11 | extended pedigree | |
Well, this is an awful picture of a really gorgeous little buck. I was so pleased with his daughter Sulis this year (2015) that I have given him a lot more work to do this fall, and will hopefully get a better picture of him this spring.
| | | |
| --- | --- | --- |
| DOB 5/6/11 | extended pedigree | |
Not our most endearing personality, but beautiful all the same. Here's hoping for lots of little JoJo udders running around here.
| | | |
| --- | --- | --- |
| DOB 1/11/11 | extended pedigree | |
Our newest outside herd sire, and a beautiful boy he is, as well as sweet and docile. Just love his first kids here, and I am keeping quite a few. I am sure that one look will tell you why.
Lower right 2 pictures courtesy of Frigga Farm
| | | |
| --- | --- | --- |
| DOB 4/9/12 | extended pedigree | |
He's back, and I am thrilled! I never had a Nor'easter daughter to keep, and no Sirius sons, so this guy is doubly welcome home.
Finally a photo of Nikola, looking a little naked at the Altamont Buck show, 2014, where he won his class several times.
(Photo courtesy of Dreahook and Lady Walkers Half Moon farms) An unexpected but welcome addition, thanks, Kathy Plutnick and Lori Yeske! Sea Fire is linebred on Fox Fire, sire of our gorgeous and ageless Ella Enchanted, and his dam Sea Star is half sister to our gorgeous CH Flat Rocks Charybdis *D (Best Udder, 2011 ADGA National Show). Also, he has a moonspot :- )
| | | |
| --- | --- | --- |
| DOB 3/22/15 | extended pedigree | LA |
Our only Rebel son, flashy young Domino should be getting some needed exposure this year. His sister Persephone is one of our up and coming young does.
| | | |
| --- | --- | --- |
| DOB 2/27/15 | extended pedigree | LA |
(Top photo by Helena Petersen) When my gorgeous old Party gave me buck/doe twins in 2015, it was obvious they both needed to stay. It wasn't a difficult choice, they are very satisfactory indeed.
| | | |
| --- | --- | --- |
| DOB 3/15/16 | extended pedigree | LA |
You can never have too many Party kids.
| | | |
| --- | --- | --- |
| DOB 3/15/16 | extended pedigree | LA |
I really should have kept a Ranger son...and a Peregrine son...long before this, so it is fortunate that this guy came along and simply could not be denied...