updated 5/4/13
Driveway breeding service is available--contact us for more information. No, we will NOT lease a buck off the property, so don't even ask.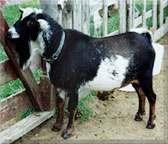 May 27, 1998- January 1, 2012
In 2008 Paco became one of the few ++*S bucks! Thanks to all of the owners of his progeny that contributed to this accomplishment!!
Paco sired the first kids born here. When Judy Veale offered him to me I jumped at the chance to give him a home. Paco produces beautiful general appearance, improved capacity and attachments, excellent feet and legs, and sweet, gentle, milkable temperments. His offspring all have a characteristic elegant, uphill profile with very high withers. He has two MCH daughters: MCH Old Mountain Farm Dubonnet, bred by Cheryle Moore-Smith, and our own MCH Dragonfly Calliope *D E. A third daughter, the beautiful Fairlea Ariel, has three GCH legs but only received two, because of missing tattoos. Paco is also the sire of the stunning ARMCH Rosasharn's Tiger L *S E (4xRGCH, 3xGCH Buck). Paco had three daughters earn their stars in a one-day milk test in 2004; two of them had scores that put them in the top ten of one-day test scores for the breed that year. As a result, not only did Paco earn his +S, but his famous sire, Raising Arizona, now has his second plus as well. His daughter Fairlea Troy was GCH Junior Doe under judge Jeff Klein at the ANDDA Nigerian Dwarf Specialty at the 2005 AGS National Convention, and Paco also won his fourth Best Get of Sire award at the same show. After yet another Get of Sire win at our last show of the 2005 season, we were pleased to learn that Paco had won the 2005 Tom Thumb award, sponsored by Has It All Farm, for the most Get of Sire wins in a show season. He had yet another daughter, Fairlea Florence, win her junior leg at that same show.
It is fairly plain at this point that Paco is firing blanks, as it were, and barring a miracle, there will be no more naturally sired tots about. We do have some semen frozen and at some point in the future, he may yet sire some more kids. For now, he lives with the does, and goes around all day with a very satisfied expression on his face.
Show record: 10 x 1st, 3 x 2nd place Get of Sire, 2005 Tom Thumb Award Winner, 1 x RJrCH Buck
photo courtesy of Cheryle Moore-Smith
May 18, 2002 - February 26, 2012
Hunk was a perfect gentleman, and had a certain aromatic savoir faire. . .though he stayed cleaner than any buck I have ever had--I don't know how he did it. While he was no substitute for our favorite but sadly infertile guy, Paco, he was both a Raising Arizona grandson, and a Luck of the Draw son, which was very nice indeed--in fact, he had four of the most illustrious names in the breed as his grandparents. He has proven many times over that he could produce lovely daughters, one of whom, Cloverdale's IH Cafe Latte, owned by Diane Davis-George of Mini Inspirations Farm, won an ADGA GCH and an AGS Best Udder in show as a first freshener. And I know everyone always says this, but--he really was much more level than he looks in this photo! His kids here have universally had notable length of body, neck and bone pattern, levelness of topline, tight shoulders and elbows, and wide open escutcheons. We have retained his daughters Merlin, Electra, Sweetwater, and Celestial as well as Best Junior Doe in Show winner Peregrine. More on Hunk later, but for now I am just very glad that he was collected multiple times, and that we have retained three of his sons from three of our very best does.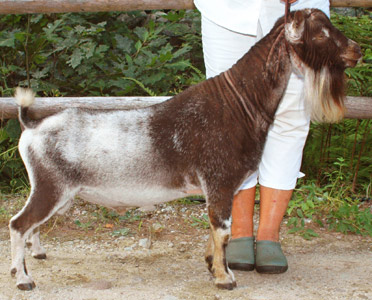 August, 2005
Giacomo represents a close linebreeding on Twink's Pixie: he is by a grandson and out of a daughter. He himself is lovely to look at and a joy to handle; he is the only goat I have ever had who actually seems to enjoy being clipped for shows, and happily struts his stuff once he gets in the ring. His kids consistently inherit his long, uphill profile, beautiful feet and legs, amazing width between the hocks, wide open escutcheons, and nice hind end angulation--we have retained his daughters CH Deirdre (1 x GCH Jr, 4 x RGCH Jr, 3 x GCH Sr), Intaglio, Floria, Zezolla, and a grandaughter, Merlin (1 x GCH Jr, 3 x BOB). His daughter Fairlea Tosca, out of MCH Fairlea Heidi *D, was also a junior champion and has a leg in milk, and her littermate Fairlea Hamlet *S classified E as a two year old. Giacomo won his first MCH leg as a yearling over more than 30 other bucks, and Best of Breed over a two-time Reserve National Champion. Thank you, Kellye!
Giacomo is a plus sire as of 2009--his daughters in our herd and elsewhere are some of our best milkers.
Show record: 12 x 1st place, 6 x Jr Ch Buck, 3 x GCH Buck, 3 x Best of Breed, 6 x RGCH Buck
3/19/04 - 6/1/12
Rio is the last buck that will ever leave the farm on a lease, and I blame myself that I even considered it. His loss at the age of only 8 years is my fault alone, and I will never forgive myself. I do hope we will have quite a few more kids here via AI, but he can never be replaced.
(Left photo by Declan Dean.) Rio was our oldest polled buck, and we were very lucky to have him. His dam was one of the canonical Flat Rocks does, and his sire was the late, incomparable Gem. He was a tiny fellow, but extremely well put together (check out that escutcheon) with especially tight shoulders and elbows, terrific skin and ribs, and strong feet with tight toes. It was immediately evident that he would consistently improve feet and legs, producing unusually short, strong, upright pasterns on long, level elegant daughters. What we now know is that all of his daughters to date have nearly identical beautifully shaped and attached udders--in that respect, I would say he was one of our most consistent bucks.
We have retained his daughters Harlequin, and Danu, and we are also very impressed with Ocean Spray Sea Breeze, bred by Lisa O'Connor and owned by Mandi Babcock. His son Bacchus produced the lovely Dido. Sadly we have no sons here to carry on but perhaps the magic semen tank will remedy that lack.
Show record: 1 x 1st place, 1 x GCH Buck, 1 x Sire and Son (with Fairlea Fletcher Christian)
Reserve All-American Buck, 2 years to under 3, 2006
MCH/CH Dawnland Tabby's Halifax 'E' 90.0
Sire : Rosasharn Tom's Water Tabby *S (ARMCH Goodwood Tom Thumb+*S 'E' x ARMCH Goodwood Water Lily 2*D)
Dam: Stonewall's India Wilkes (Stonewall's Raising Arizona ++S x Stonewall's Dizzy Miss Lizzie)
6/29/04 - 3/20/10
Halifax scored an amazing 2.9 out of 3 in the Style/Upstandingness category in his AGS Classification; one look at his photo and you can understand why. He was a beautiful balance of elegance and power. To my knowledge he never had a fresh daughter with anything but a lovely mammary system, and most of his offspring have improved general appearance and dairy character over their dams. Hal was a permanent champion in both AGS and ADGA, having gone 3 times Best of Breed from the AOP class over standard breed bucks, including a multiple Best Buck in Show-winning Toggenburg. To date he has had 3 daughters win Best Junior Doe in Show at large all breed shows.
Hal was found dead in his pen on the morning of 3/20/10. Post mortem examination showed that his heart failed quite suddenly, apparently due to a cardiac toxicity. I am just devastated by his loss, and can't bear to remove his picture from this page.
I am mystified to learn that Halifax apparently measured overheight at each of his LA sessions (two of which were before I owned him). I can't figure that out, because he was shown as a mature buck many times in AGS shows, (where each animal must WALK under the wicket in order to enter the ring--no holding heads down or other shenanigans) and never measured out. All of his wins in AGS have associated official height measurements recorded, for a total of 5 different measurements by 5 different judges, all within the height limit. When he won his three legs in ADGA, in 2009, two of the judges were willing to sign AGS win forms, thus I have a record of their official measurements of his height (at 5 years of age) as 23 3/8 inches (Lynn Fleming, 5/23/09) and 22 1/2 inches (Lynn Benedict, 5/23/09) (notice the high variability of measurements on the same day). It is my position that, no matter what is recorded in the ADGA Genetics database, Halifax was NOT an overheight buck.
Show record: In AGS: 1 x Jr CH Buck, 3 x RGCH Buck, 2 x GCH Buck (one leg lost), 1 x Sire and Son (with sire Water Tabby); in ADGA, 3 x GCH buck, 3 x BOB (judges Pete Snyder, Lynn Fleming, and Lynn Benedict, May, 2009)
Reserve All-American Buck, 2 years to under 3, 2006
(Photo by D. Gotthardt.)The birth of this buck really was a miracle--his 14 year old sire was supposed to be sterile, and his elderly dam had been retired from breeding. However, grandma and grampa had other ideas. Both parents are a tribute to longevity in the breed. I really like the elegance of this buck, though he does persist in adopting the typical butt-tucked, stubborn buck position in the show ring. One of Max's first daughters, Ocean Spray Catch the Wave, earned her AR and milk star as a 2-year old on her first freshening. On lease at Charlie's Acres.
Show Record : 1 x RGCH (ADGA, judge Pete Snyder, May 2009)
CH Flat Rocks Sirius Black
Sire: Irish Whisper Harry Potter (Gay-Mor's Lucky Northrup King x Gay-Mor's RA Wood Nymph)
Dam: Flat Rocks She's a Keeper (Goodwood Henry Matisse x Flat Rocks Princess)
Sirius is loosely line bred on Raising Arizona, with some Gem and Luck ofthe Draw thrown in for good measure. I was stunned when I peeled off his hair before hauling him off to a 3 ring buck show in May, 2012...I thought he was quite gorgeous, and the judges obviously agreed with me. His toes are so tight that I almost could not get the clippers between them to trim the hair there, and he has amazingly soft skin, velvet-fine hair, wide flat ribbing, tight shoulders and elbows, and the most beautiful profile. To top it off, he has a sweet, gentle personality to go with his great looks. Although he doesn't have the highest LA scores, he has in fact earned Vs in EVERY category except rump, and numerical scores equal to or above 25 in all the linear traits...just never all from the same appraiser in the same year.
Show Record : shown 3 times; 3 x 1st, 3 x GCH buck and BOB (Lynn Benedict, Jeremy Lezniak, and Lynn Fleming, May, 2012), 1 x Best Buck in Show (Lynn Fleming, May, 2012)
(Photo by Declan Dean) This lovely polled boy is strong in several areas that our breed really needs, particularly his wide, flat, level rump, tight shoulders and elbows, nice rear angulation, great length of body, and general openness. What's even more remarkable about him is his pedigree, which largely consists of the great Flat Rocks Gem (75%)--pretty near as close as we could get to having the grand old man standing here himself. Tuan's dam, My Shadow (who was also the dam of our Flat Rocks Penumbra) had the highest, most open escutcheon I have ever personally seen on a goat.
Show Record : 3 x GCH (May, 2010, Tom Considine, Ed Cavanaugh; May, 2011, Patricia Ricotta), 2 x RGCH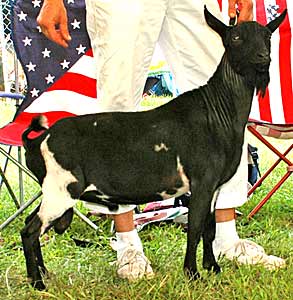 Well, I really did not need another buck, but I could not pass this boy up. I have really wanted to bring in someone who embodies the Stonewall's Midnight Cowboy/Goodwood Mindy cross, but I felt that I was at my limit--so when my good friend Lorene Toth at Sunnydale Farm asked me where she should look for a great buck, I told her to buy what I thought I had the willpower not to--something linebred on Stetson. She contacted Sharon McCarty, and the result was twin bucklings--both of whom ended up with Lorene. The fact that one of them is now here is a gift beyond price. Rebel can trace his descent from royal dam lines, being the son of a Reserve AGS National Champion Stetson daughter (Suthrn, 2003; she was also 8 x BU and 8 x BOB) and the grandson of a National Champion Stetson daughter(Bridget, 2004) Both Suthrn and Bridget have prodigious milk records as well: in 2004 Suthrn milked 2.11 21 1/8 305 1057 67 6.3 45 4.3, and Bridget milked 5.0 21 1/8 302 1049 73 7.0 43 4.6, for an average of 3.5 lbs of milk per day over a 305 day lactation for each. Those records earned them both spots on the AGS Top Ten list for 305 day test that year--Suthrn in 5th place for milk, 6th for protein and 7th for butterfat, and Bridget in 6th place for milk, and 4th for both protein and butterfat. And for icing on the cake, yes, that is a big lovely moonspot in the middle of his back. Thank you so much, Sharon McCarty, for breeding this beautiful boy and his brother Southern Comfort, and words cannot express my thanks to Lorene for offering me the "other brother"!!
Here is a rear view of Suthrn Bell from Caesar's Villa's winning breeders trio entry at the 2004 AGS National Show.
Show Record : not yet shown
(Bottom photo by Declan Dean) When I decided to keep Dante here, I decided in turn to sell this beautiful buckling, with the promise that he would be sold back to me on request...I am deeply grateful to Rebecca who graciously agreed to send him back home in the wake of his sire's death. I have big, big plans for this guy this season. To me he looks like he will be the spitting image of his sire--even dirty, unclipped, and in rut he is lovely to look at.
Show Record : not yet shown
I am very excited about our new herd sire--he is very similar in breeding to our favorite Pacifica, as well as some of the most successful herd sires in the breed (see Twin Creeks BW Montego Bay, Rebel w/out a Cause, Fathom This, and Brown Dirt Cowboy, among others, and for a real thrill, Google their daughters...) They are all very very prepotent producers of strong udder floors, high rear udders, and especially, that near perfect teat placement that is still far too rare in the breed--I am really looking forward to some beautiful udders . Avatar has some really nice daughters from 2011 that I am looking forward to freshening.
Show Record : 3 x 1st place out of 3 times shown against the big boys, May, 2012; 4 x RGCH, May, 2013.
| | | |
| --- | --- | --- |
| DOB 3/1/10 | extended pedigree | LA not yet done |
Okay, this guy ought to be Halifax come again...but at least at first glance, he sure is not. In fact, he is a very unprepossessing little guy, though he is absolutely the most lovey boy in the buck pen. However, as they say, it's not how they look but what they do, so hopefully we will see what he can do this spring.
I wanted to leave what I wrote above, now that I finally have a mature clipped picture of this little guy--he has turned out very well, I think. He's still the shortest guy in the buck pen, (and still the sweetest), but he is beautifully put together. A sleeper that I believe I should be using much more.
Show Record : not yet shown
(Photo courtesy of Addie and Joe Pepoli, Proctor Hill Farm) Solaris represents the extreme in dairy character, with very lean thighs and an elegant profile. The udders behind him are very strong, and his pedigree includes one of my very favorite crosses in the Nigerian breed, Baywatch to Nonpareil. I am expecting very strong udder attachments and a lot of elegance from his kids.
Show Record : not yet shown
| | | |
| --- | --- | --- |
| DOB 5/29/10 | extended pedigree | LA 2011 VVV; V |
Polled. I just love this little guy, even though he doesn't like to help us photograph him. More impressive in person than this picture shows. He has a lot of kids coming this spring of 2012.
Show Record : 4 x 1st, 3 x Jr GCH, 1 x Jr RGCH
| | | |
| --- | --- | --- |
| DOB 6/3/10 - 8/10/12 | extended pedigree | |
Our most beautiful Hal son, I think. We lost Little Hal to our first ever collar incident...I have taken all the collars off of the boys now, so that they can safely ogle the girls without fear of hanging. It has been a really rough year for Dragonfly Farm bucks.