Dragonfly Farm Senior Does 1
updated 5/15/17
Click on the goat's name to go to her page; click on the thumbnail photo to see a larger version.
Animals that have not settled in several years have been moved to the Blissfully Retired (Lawn Ornaments) page. Should miracles occur, they get to come back here!
DOB 12/19/03
extended pedigree

LA: 2007 VEEV 88--2008 VVEV 87-- 2009 V+EE 89--2011 EEEV 90--2012 EEEV 90
The longer I have this doe here, the more I love her. She is very sensitive, and has to try harder than those with calm personalities to be a good goat, but she really does try. She was sold to me because she was such a beast in the show ring at her first show that her breeder put her on the sale page in disgust--but she apparently had no intention of being shown the door again, because she always behaved perfectly for us, though it took some convincing to get her to walk with her head up. It helps that she is very fond of horse cookies. She has been everything we have asked her to be--great mom, beautiful show doe, happy milker. Thanks are due to my good friend Sunni for not only letting me have this paragon, but for not being mad that she has turned around so well! For more photos and information, including udder shots, click here to go to her page.
By the way, for those who have wondered, I placed this photo of Party in the Wikipedia Commons some time ago, because the photos of Nigerian Dwarf goats that were on Wikipedia at the time were either in fact Pygmies or were of horned, unclipped, not very inspiring specimens. Placing this picture in the Commons means that it is available to be used in pretty much any way people want to at will, with the restrction that attribution is required. Unfortunately, that attribution is often lacking, so I've spent some time chasing down copies and asking people to properly attribute the photo. It also has led to various funny situations such as the one where Party is being used to illustrate the color pattern "black and tan" or essentially sundgau. She's obviously not a sundgau, but a clear buckskin, who does however illustrate the extreme in blackening referred to by Dr. Phil Sponenberg in his article "The Genetics of Goat Color", where he says, referring to the color pattern "San Clemente"( which we call buckskin), "The result is that the blackest variants can be easily confused with the patterns produced by the black and tan or eyebar alleles, while the least black variants could be confused with a shaded red ." To verify that Party is indeed buckskin, we need only examine the result of breeding her to Rebel, which twice produced solid black and clear, standard issue, black and tan buckskin, thus proving beyond doubt that it is impossible for Party to be anything other than buckskin. Unfortunately this argument did not prove convincing to the person foolishly using her photo to illustrate the wrong pattern, and she remains there to this day (although at least now I receive the photo credit). I mean, why on earth would I know what color my own goat is?
One very cool result of placing this photo in the Commons is that Party has been used several times now in issues of "Time For Kids" to illustrate the Nigerian Dwarf Goat (most recently in May, 2013, and with actual proper attribution. Yay!)
Show record: 10 x 1st, 4 x GCH Sr., 4 x RGCH Sr., 5 x BOB, 6 x Best Udder
ANDDA Reserve All-American Milking doe 2 years to under 3 (tied with Skylark, behind Pacifica)
ANDDA All-American Milking doe 3 years to under 4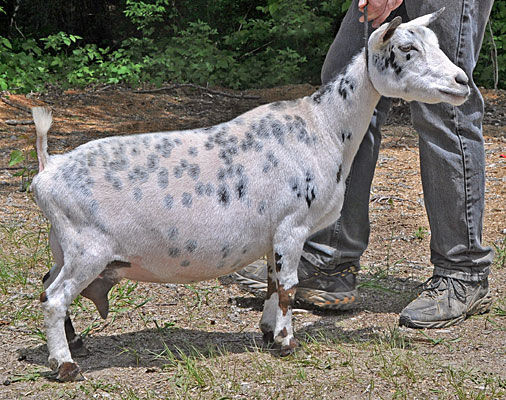 June, 2014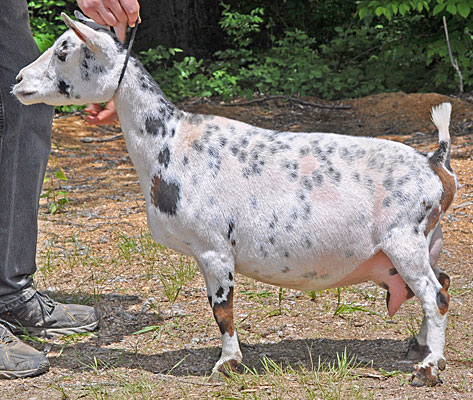 | | | |
| --- | --- | --- |
| DOB 2/17/05 | extended pedigree | LA 2009 +VVV 84, 2010 +VVV 86, 2012 VEEE 90, 2013, VEEE 89, 2014, EVEV 90 |
I absolutely love this doe, and I feel so lucky to have her here. Sunni, Ella's breeder, has retained her full sister Ever After, and considers her one of her best--and we can see why. Ella's dam is closely linebred on Surprise, being both a Surprise daughter and granddaughter. Ella represents a cross of the Surprise line with Kingwood, which has proven very successful in the past. She is very elegant and level on the move, with great legs and feet and a sweet, cheerful disposition to boot. Ella's udder is a carbon copy of her beautiful sister's; for more photos and information, click here to go to Ella's page.
3/20/05 -- 5/15/17
We lost sweet, gentle Tiger's Eye to a coyote attack. I'm sorry, old lady, that I didn't protect you better. Dam of the 2011 ADGA National Champion Doe, Topaz. For more photos and information, click here to go to her page.
I am so glad to have Chickadee back here--thanks so much Angie Wills and Jill Bullock for making it possible! I don't have many kids from either Giacomo or Snowbird, so she is doubly valued. She has freshened with an beautiful udder, very capacious, excellent attachments, lots of division, and huge teats. One linear appraiser commented "It isn't very often that you see teats almost pointing inwards in a Nigerian." For more pictures and information, including udder shots, click here to go to her page.
| | | |
| --- | --- | --- |
| DOB 2/5/06 | extended pedigree | LA 2009 VVVV 87, 2011 VEEV 90 (permanent), 2012 +VEV 86 (yeah, right), 2013 VEEE 90, 2014 EVEV 90 |
Our February surprise! I really liked this doe as a kid, and so did the judges, but for the longest time they always liked one other kid just a little more. That's okay with us. She looks just as nice standing in the pasture as walking in the show ring. She has a naturally level topline and beautiful neck blending into her shoulders. Leprechaun's get are known for their slow developement, and as Ceili is Leprechaun in spades, we knew she was right on track. Sure enough, she has matured into a beautiful doe who I think truly deserves her excellent linear appraisal. For more pictures and information, click here to go to her page.
Show record: (as a junior doe) 3 x 1st, 6 x 2nd, 1 x GCH JrDoe, 1 x RGCH Jr Doe (ADGA)
| | | |
| --- | --- | --- |
| DOB 2/27/06 | extended pedigree | LA 2009 V+VV 86, 2010 VVVE 88, 2011 VEVE 90, 2013 VVVE 89, 2014 VVEE 90 |
This doe is put together so well, I just love her. Answers to JoJo (loudly). Milking this doe has taught me the fallacy of statements like "That udder is terrific, she just needs to fill up that rear a bit more." This udder is attached high and wide and looks beautiful even empty, even though it milks down to exactly nothing. For more photos and information, click here to go to her page.
Show record: 3 x GCH and BU (2009, Jeremy Lezniak, Franklin County Fair, 2010, Bob Bartholomew, Saratoga County Fair, 2011,Bob Bartholomew, Blandford Fair), 2011 ADGA National Show, 4th in the 5 year old class and Best Udder of Breed (Lauren Acton and Meghan Treadway-Carter).
This very striking doe, almost the image of her dam plus some white overlay. This is an absolutely incredible pedigree: the best of Gay-Mor crossed with 2 of Twin Creeks' finest sons. Sweetwater was returned to us this year in time to be bred to freshen for the first time as a 3 year old. It was worth the wait; this is one of the best first udders we have ever had. For more photos and information, including udder photos, click here to go to her page.
Show Record : 1 x RGCH
| | | |
| --- | --- | --- |
| DOB 3/4/07 | extended pedigree | LA 2008: VVV--V, 2012 +EEV 85, 2013 +EEV 88, 2014 VVVE 88 |
One of our valued imports from Flat Rocks: an unpolled Gem daughter, which makes her incredibly precious (because she can be bred to a polled Gem son...). Galena is not the friendliest goat with the prettiest face, nor is she the prettiest color, but her udder makes up for all--according to her breeder, better than her dam's at the same age. Her strength in head, legs, back and rump don't hurt either. For more pictures and information, click here to go to her page.
Rosasharn SP Honey Creeper 4*D AR2265 +VVE 87
Sire: ARMCH Rosasharn SW Sapporo +*S EEE 91
(Doe-Sy-Doe FS Storm Warning x ARMCH Rosasharn's Unagi 4*D E AR)
Dam: ARMCH Rosasharn's Buckwheat Honey 3*D E EEEE 91, 2007 AGS National Champion, 2010 ADGA Reserve National Champion
(OTR Magic M Heracles +S x ARMCH Rosasharn's Eclipse 2*D E)
| | | |
| --- | --- | --- |
| DOB 3/13/07 | extended pedigree | 2013 +VVE 87, 2014 +VVE 87 |
(Photos by Declan Dean) Creeper is a very nice doe with an unassuming personality and a lovely udder. Very pleased to have her here. For more pictures and information, click here to go to her page.
I was very happy to be able to buy this doe back from Proctor Hill Farm in 2012. She is really a lovely doe, though not our most outgoing character, and has settled in here very nicely. Oh, how I do despair, however, of ever getting a really nice picture of this doe.
Show record: Not yet shown
July, 2011
| | | |
| --- | --- | --- |
| DOB 7/2/08 | extended pedigree | LA 2010 VVVV 86, 2011 VEEV 89, 2013 VEVV 87, 2014 VVVV 87 |
Daffy has matured into quite a lovely doe, very elegant and with a very serious demeanor. For more photos and information, click here to go to her page.