Dragonfly Farm Does For Sale
updated 7/1/17
If you are interested in any of the does on the first fresh or junior doe pages, feel free to let me know of your interest, and I will contact you if your choice becomes available.
Does for sale are often offered first on our Facebook farm page, Dragonfly Farm Goats. Like our farm page for the latest updates!
I won't offer a doe as show quality unless I really believe it to be true. As most of us do, I have a continuing population problem!
Brush Hill's Gretel
Sire: Moon Spinner's Mars Bar (Hayseed Farm's GGG Suncatcher x Gay-Mor's RA Nigella)
Dam: Morning Mist Minis Double Take (Old Mountain Farm Noble x Green Gate Xerox)
(Photos courtesy of Ruth Phillips) Gretel caught my eye when her owner posted her for sale or trade on Facebook--her udder is stunning, but she also has a very interesting old pedigree with some lines in common with our beloved Stonewall's Apocalypse Now. I am very glad she has arrived here. For more photos and information, click here to go to her page.
For sale in milk, $600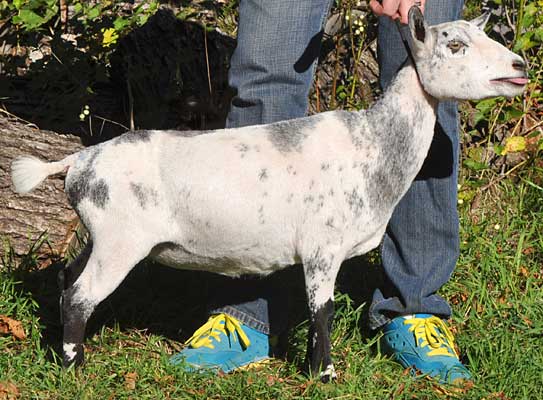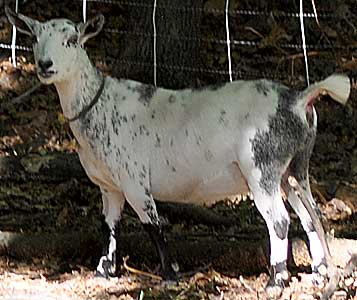 October, 2016
| | | |
| --- | --- | --- |
| DOB 3/14/15 | extended pedigree | LA |
Another treasured gift from one of our old ladies, Harley. She may not be very impressive in person, but the diminutive Harlequin has produced some of our most beautiful does. This kid is also our only Princeton daughter, so I'm very interested to see how she turns out. Colombina is the traditional name for the love interest of the Harlequin character in Italian Commedia dell'arte.
Colombina is a lovely doe with a sweet personality and a beautiful udder, but she is quite small--she would make a perfect 4H goat. Her dam was one of my best brood does, and I expect Colombina will also produce beautiful kids. $600
Show quality dry yearlings:
Brood doe quality/Family milkers:
May, 2012
(Side view photo courtesy of Addie Pepoli, On Mountain Thyme farm) Another returnee, and I'm thrilled to have her back. She really is a slightly smaller version of her dam; every time I see one or the other I have to look twice to tell them apart.
Mardi is not really a top show doe, but her pedigree is so outstanding, I honestly believe she may be a very valuable brood doe--her price reflects that. There are very few Party daughters not living here with me--and I don't really mind if this one stays, thus her price.
$800.00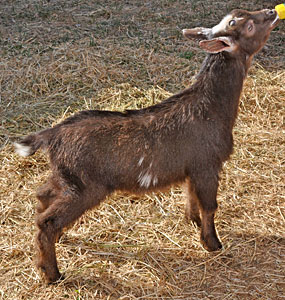 Amedai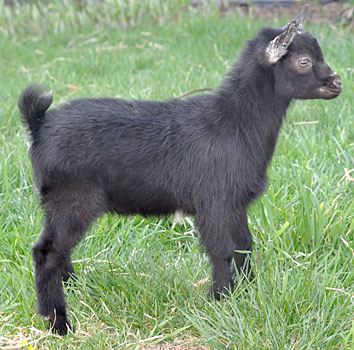 Dahlia
| | | |
| --- | --- | --- |
| DOB 3/14/15 | extended pedigree | LA |
These two are being offered as pet does. Amedai (2 years old) did not settle for her owners, so she may not be able to breed, though she is strong, healthy, and very friendly. Dahlia is also a bottle kid and loves people, but she has a small hernia which may make it dangerous to breed her. Repair of this opening is supposedly non-invasive and generally sucessful. Both available without papers, and if bred sucessfully, papers available for an adiitional fee.
$250 each.